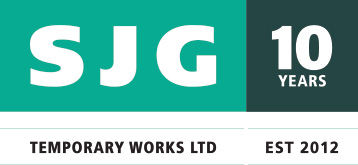 The Specialist Consultants for Temporary Works: Construction & Civil Engineering.
Experts in Temporary Works and the Procedural Control of BS5975
SJG Temporary Works Ltd is a complete support solution, established to assist with the management of all aspects of Temporary Works. Whether you're a large contractor or a smaller organisation, we are highly motivated, responsive and driven by finding the right solutions for all our customers.
Our vast experience in Temporary Works, geotechnics, structures, equipment and proprietary solutions enables us to provide a commercially beneficial solution for all your value engineering needs. Our important knowledge of buildability and how sites and subcontractors work 'in the real world' is invaluable.
Regular feedback from our extensive client base proves that contractors appreciate specialist knowledge. The fact that we have not diluted our service line allows us to deliver expert engineered solutions for specific Temporary Works issues.
As a consultancy we are covered by comprehensive professional indemnity insurance and additional cover can be provided where necessary on a contract by contract basis.
SJG Temporary Works Ltd is recognised by many as the expert consultancy for Temporary Works solutions. Utilise our services today for specialist Training, Design, Site Support or Contract Support.
---